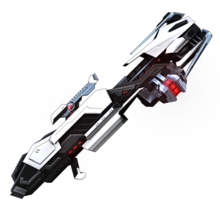 When Conduit fires the Xal Blaster Rifle at someone, presumably they ask Xal for assistance when its Storm Pulse S-tech immobilizes them by shocking their servos. Any help Xal can give would have to come quickly, since Conduit would then fill them full of holes.
Range: 6/8
Shield Damage: 3/8
Spark Damage: 3/8
Tip: When enemies are bunched together, fire Storm Pulse into the crowd to immobilize multiple targets. Alternatively, use it against enemies attempting to flee in vehicle mode.
Notes
The weapon is presumably named after Xal, a mythical figure in Cybertronian history.
Community content is available under
CC-BY-SA
unless otherwise noted.