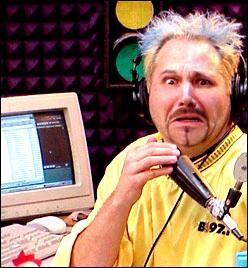 Wankus (born Wayne Lewis, 1969– ) is an American radio DJ, porn actor/writer/director (apparently mostly, if not wholly, um... non-action acting roles) and, for some reason, voice actor. His roles outside of Transformers are generally best left unmentioned. Aw what the heck, here are a few: Thar She Blows, Italian Sausage 2, Search for the Ripe Peach and...actually, that's about enough.
Transformers credits
Robots In Disguise
Convention appearances
Notes
The name "Wankus" came from a radio co-host's verbal fumble when she tried to call him a "wanker" and mixed in some "doofus" by mistake.
Wayne was also a DJ in Santa Barbara, CA at K-LITE in the '90s and worked as Executive Producer for Robert W. Morgan at KRTH 101 in Los Angeles.
Wankus has been known to crash many a karaoke bar to perform HIS special version of Madonna's "Like A Virgin".
He was the host of the B-100 Morning Show in Los Angeles.
His hilarious original "Alrighty Then" is a crackup, but only a few copies exist.
External Links