Salt-Man Z is an Autobot in the Generation 1 continuity family.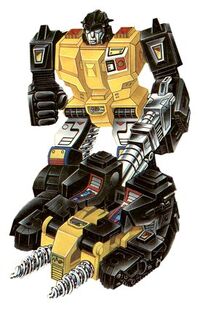 Salt-Man Z hits hard and fast, using his drills and beta-ray gun to destroy anything he can't knock down. He has yet to meet the thing he couldn't break.
(Note: "Salto" means "jump" in Spanish and Portuguese.)
Toys
Generation 1
Salt-Man Z is a redeco of Twin Twist, available in several color schemes. Its boxart used black/yellow (available in Brazil), but it was also produced in blue/yellow (Argentina) as well as blue/orange (Brazil and possibly Argentina). It was sold only in Argentina and Brazil.
This mold was also used to make

Robot-Man Z

.
External links