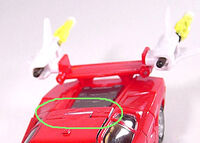 Just what its name implies, unpaintable plastic is plastic to which paint will not adhere, due to the chemical compositions of said plastic. This plastic is sometimes used on Transformers toys for structural reasons, due to its durability, flexibility, or resiliency.
The two most common plastics that are unpaintable and often used in Transformers are Polyoxymethylene(POM) and Polyamide(PA). The vast majority of Transformers toys have at least one mold that is unpaintable.
Examples
Community content is available under
CC-BY-SA
unless otherwise noted.