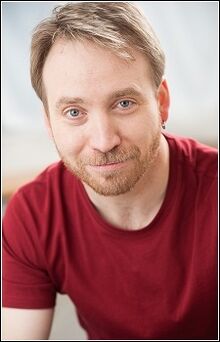 Trevor Devall (born November 10, 1972 in Edmonton, Alberta, Canada) is a Canadian Actor, Voice actor and Podcaster. Some of his better-known cartoon roles include Nuju and Pohatu on the Bionicle movies, Pyro on X-Men: Evolution, Dukey on Johnny Test (succeeding from Louis Chirillo), Burt Burtonburger on Kid vs. Kat, the ever-popular Rocket Racoon on Guardians of the Galaxy and Fancypants, Hoity Toity, Thunderlane, and Iron Will on My Little Pony: Friendship is Magic.
In the world of dubbing, he has played Mu La Flaga on Mobile Suit Gundam SEED, Mr. Bai Ji-Shin Chang on Black Lagoon, Shingo Mido and Shuichi Aizawa on Death Note, Mr. Match on Mega Man: NT Warrior and Togusa on the Ocean group dub of Ghost in the Shell: Stand Alone Complex.
From 2007 to 2013, he hosted a podcast called "Voiceprint with Trevor Devall and Guests" in which he interviewed various Canadian voice actors, many of whom have provided voices for past Transformers series. Devall relocated from Vancouver to Los Angeles in late 2013.
Voice Roles
Community content is available under
CC-BY-SA
unless otherwise noted.