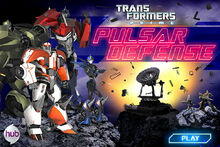 Transformers Prime: Pulsar Defense is an online game tying in with Transformers: Prime. It was made available on the Hubworld web site in 2013.
Plot
The Decepticons have constructed an Energon Drain in an asteroid field. Optimus Prime promptly comes up with a plan to build a Pulsar Dish using the drifting debris in the field. The Decepticons soon catch wind of the plan and attack the dish as it's constructed, but the Autobots are able to see them off, and complete the dish in time to use it to destroy the Energon Drain.
Characters
Community content is available under
CC-BY-SA
unless otherwise noted.