Transformers is a toyline for Transformers in 2010. The line is basically a successor for the Revenge of the Fallen in the live-action film series, however, the series also features several non-Movieverse characters, such as Laser Optimus Prime, Jazz, and Tracks.
The series contains the promotion Hunt for the Decepticons in 2010 and Reveal the Shield subline imprint that features rubsigns in late 2010 to early 2011.
Toyline
Legends
Wave 1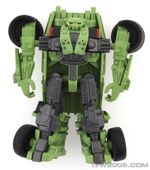 Red Rampage (New mold)
Ravage
Bumblebee
Wave 2
Longhaul (New mold)
Tracker Hound (Re-Paint of Universe Hound)
Sandstorm (Re-Paint of Universe Beachcomber)
Overide (Re-Paint of ROTF Sideways)
Wave 3
Dust Storm (Re-Paint of ROTF Springer)
Tuner Skids
Legends gift packs
G1 colors Devastaor 7-Pack (Re-Paint of ROTF Legends Devastor, TOY'S 'R' US exclusive in U.S)
The Victory of The Fallen five-pack Each figure has a slight Re-Pant W/ Megatron, The Fallen, Optimus Prime, Jetfire and Starscream (KMart exclusive).
Megatron Rising, Legend and voyager 5-Pack, consisting of most of the characters that appeared in that scene of ROTF, Each figure is now painted to look a bit weathered.
The Ravage Infiltration scene pack with Autobot Flak and Rollbar (Target Exclusive)
Scout
Wave 1
Cranckstart (Re-Paint of ROTF Dunerunner/Beachcomber)
Backfire (Re-Paint of ROTF Knock-Out/Reverb)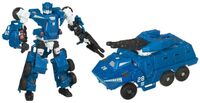 Wave 2
Oil Pan (Re-Paint of ROTF Breakdown)
Unreleased toys
Crosshairs
Drydock
Undertow
Deluxe
Battle damaged Bonecrusher (Re-Paint of TFTM Bonecrusher, Wave un-Known at present time)
Wave 1
Wave 2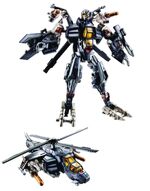 Wave 3
Ironhide (Same as Wave 1)
Terradive
Tomahawk (it appears he's based on the G.I Joe Helicopter of the same name)
Electro-Static Jolt
Wave 4
Axor (Re-Paint and mold of ROTF Lockdown)
Rescue Ratchet (G1 colors ROTF Ratchet)
Deluxe Gift sets
Rampage among the ruins, 3-pack deluxe set W/ a new red Rampage that looks more like the Japanese version, Cannon Bumblebee and what looks to be sea attack Ravage. (TOYS 'R' US exclusive.)
Desert ruins Brawl, W/ New desert camo Deluxe Brawl and Legends Jolt
Bombing run battle, W/ Deluxe Bumblebee and Legends desert colors Grindor (Wal-mart exclusive)
Voyager
Wave 1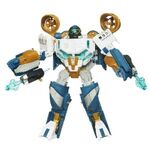 Payload (Re-Paint of Revenge of the Fallen Longhaul, looks like Constructicon Warrior from Revenge of the Fallen game)
Night Ops Ratchet
Battle Blade Optimus Prime
Wave 2
Banzitron (Re-Paint of ROTF Bludgeon)
The Fallen, with Spear (Blue Re-Paint and Re-Mold of ROTF Fallen)
Wave 3
Leader
Wave 1
Starscream
Battle hooks Optimus Prime
Ultimate
Human Alliance
Bumblebee with Sam Witwicky (same as before, but with Sam wearing a white T-shirt)
Jazz with Captain Lennox and a motorcycle that turns into Jazz's gun/shield
Shadow blade Sideswipe with Mikaela Banes (Mikaela is wearing a leather jacket and jeans and has her hair in a ponytail).
Activators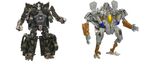 Wave 1
Optimus Prime
Bumblebee
Megatron
Wave 2
Community content is available under
CC-BY-SA
unless otherwise noted.