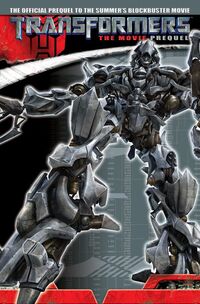 Prime Directive, called Transformers: Official Movie Prequel on the covers, is IDW Publishing's four-issue comic series which serves as a foundation and backstory for the 2007 Transformers live-action movie.
Prime Directive issues:
#1 | #2 | #3 | #4

Preceded (more or less) by: Transformers Movie Prequel
Followed by: Movie Adaptation
Overview

You left a piece out!
---
This article is a stub and is missing information. You can help Teletraan I: The Transformers Wiki by expanding it.
Creative team
Prime Directive was produced primarily by the team that spawned The War Within and The Gathering: writer Simon Furman and penciler Don Figueroa. IDW editor-in-chief Chris Ryall also assisted with the writing.
Publishing dates:
Issue 1: February 28, 2007
Issue 2: March 21, 2007
Issue 3: April 11, 2007
Issue 4: May 2, 2007
Trivia
The series was originally released without a story title, as "Transformers Official Movie Prequel". However, the title "Prime Directive" was included in the original scripts, and was also mentioned in early solicitations for the series.[1]
Two free comics from Target were also released under the title Transformers Movie Prequel, and tie in to (or at least don't overtly contradict) the story of this series.
An animated version of this comic (with voice acting), named Transformers: Beginnings, was included on a special bonus disc included with a Wal*Mart exclusive edition of the Movie DVD.
Collections
Eternal Links
Community content is available under
CC-BY-SA
unless otherwise noted.