(30 intermediate revisions by 2 users not shown)
Line 1:
Line 1:
 
⚫
−

{{disambig2|the 2007 movie's prequel comic|the first [[Dreamwave Productions|Dreamwave]] G1 mini-series|Prime Directive}}

 
⚫
 
−
 
−

'''''Prime Directives''''' is [[IDW Publishing]]'s four-issue comic series which serves as a foundation and backstory for the [[Transformers (2007)|2007 ''Transformers'' live-action movie]].

 
 
 
 
+

'''''Transformers: Movie Prequel''''', called '''''Transformers: Official Movie Prequel''''' on the covers and '''''Prime Directive''''' in solicitations, is [[IDW Publishing]]'s four-issue comic series which serves as a foundation and backstory for the [[Transformers (film)|2007 ''Transformers'' live-action movie]]. Two special one-shot issues, distributed for free in association with Target, were also published under the exact same name, at the same time, by the same company, with the same creative team; they are listed here as well.

 
 
 
+

{| style="margin:auto;"

 
+

!align="center" style="background-color:#6699CC;font-weight:boldest;color:#fff;" colspan="2"|

 
+

{| width="100%"

 
+

!

 
+

!''Official Movie Prequel''(s):

 
+

!'''[[Movie Adaptation|»]]'''

 
+

|}

 
+

|-

 
+

|

 

{|style="margin:0 auto;padding:0 auto" align=center id=toc

 

{|style="margin:0 auto;padding:0 auto" align=center id=toc

−

!align=center bgcolor=#6699CC|'''<font color="white">''Prime Directives'' issues:</font>'''

+

!align=center bgcolor=#6699CC|'''<font color="white">'' '':</font>'''

 

|-align=center

 

|-align=center

 
+

|| [[Planetfall|#1]]|[[Interlude|#2]]

⚫
 
 

|}

 

|}

 
+

|

−
 
 
+

{|style="margin:0 auto;padding:0 auto" align=center id=toc

−
 
 
+

!align=center bgcolor=#6699CC|'''<font color="white">''Prequel'' miniseries:</font>'''

−
 
 
+

|-align=center

 
⚫
 
+

|}

 
+

|}

 
+

{{TOCclear}}

 
 
 

==Overview==

 

==Overview==

−

{{stub}}

+

{{}}

 
 
 

==Creative team==

 

==Creative team==

−

''Prime Directives'' was produced primarily by the team that spawned ''[[The War Within]]'' and ''[[The Gathering]]'': writer [[Simon Furman]] and penciler [[Don Figueroa]]. IDW editor-in-chief [[Chris Ryall]] also assisted with the writing.

+

'' '' was produced primarily by the team that spawned ''[[The War Within]]'' and ''[[The Gathering]]'': writer [[Simon Furman]] and penciler [[Don Figueroa]]. IDW editor-in-chief [[Chris Ryall]] also assisted with the writing.

−
 
−

== Publishing dates: ==

 
−

* Issue 1: February 28, 2007

 
−

* Issue 2: March 21, 2007

 
−

* Issue 3: April 11, 2007

 
−

* Issue 4: May 2, 2007

 
 
 
−

==Trivia==

+

====

 
+

* The series was originally released without a story title, as "Transformers Official Movie Prequel". The original working title, "Prime Directive" (which was also the title of the [[Prime Directive|first Dreamwave ''Generation One'' mini-series]] and the working title of the [[Transformers (film)|movie's]] script), was included in the original scripts, and was also mentioned in early solicitations for the series.[http://forum.newsarama.com/showthread.php?t=100548]

⚫
 
 
+

* [[Interlude|Two]] [[Planetfall|comics]] originally produced in cooperation with Target (later also collected as the [[Movie Prequel Special]]) were also both originally released under the title ''Transformers: Movie Prequel'', and tie in to the story of this series (although the later-released Target comic contradicts issue 4).

 
⚫
 
 
 

==Collections==

 

==Collections==

Line 34:
Line 42:
 

[[Category:IDW titles]]

 

[[Category:IDW titles]]

 

[[Category:Movie]]

 

[[Category:Movie]]

 
+

←
---
Latest revision as of 11:46, 20 May 2017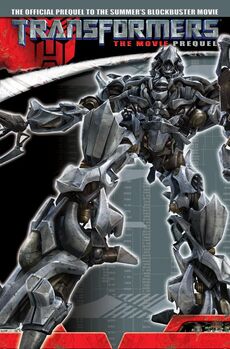 Transformers: Movie Prequel, called Transformers: Official Movie Prequel on the covers and Prime Directive in solicitations, is IDW Publishing's four-issue comic series which serves as a foundation and backstory for the 2007 Transformers live-action movie. Two special one-shot issues, distributed for free in association with Target, were also published under the exact same name, at the same time, by the same company, with the same creative team; they are listed here as well.
| | Official Movie Prequel(s): | » |
| --- | --- | --- |
Overview

Thanks for helping me... pull myself together.
---
This comic issue article is a stub and is missing information. You can help Teletraan I: The Transformers Wiki by expanding it.
Creative team
Movie Prequel was produced primarily by the team that spawned The War Within and The Gathering: writer Simon Furman and penciler Don Figueroa. IDW editor-in-chief Chris Ryall also assisted with the writing.
Items of note
The series was originally released without a story title, as "Transformers Official Movie Prequel". The original working title, "Prime Directive" (which was also the title of the first Dreamwave Generation One mini-series and the working title of the movie's script), was included in the original scripts, and was also mentioned in early solicitations for the series.[1]
Two comics originally produced in cooperation with Target (later also collected as the Movie Prequel Special) were also both originally released under the title Transformers: Movie Prequel, and tie in to the story of this series (although the later-released Target comic contradicts issue 4).
An animated version of this comic (with voice acting), named Transformers: Beginnings, was included on a special bonus disc included with a Wal-Mart exclusive edition of the Movie DVD.
Collections
Transformers: Movie Prequel TPB (June 5, 2007) ISBN 978-1600100666
←
Community content is available under
CC-BY-SA
unless otherwise noted.