You left a piece out!
---
This article is a stub and is missing information. You can help Teletraan I: The Transformers Wiki by expanding it.

What's needed: Where each track is used in the film, if it's used at all.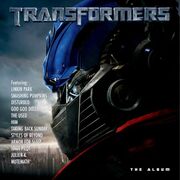 Transformers: The Album is an album containing songs from or inspired by the live-action Transformers film. It was released on Warner Brothers Records on July 3, 2007, in conjunction with the film's release. The songs are, by and large, contemporary hard rock tracks.
Somewhat controversially, the album does not include any of the actual source music from the film (primarily the vintage Top 40 pop tracks that Bumblebee plays on his radio.)
Tracks
Heard several times:

As Sam and Ronald arrive at the car dealership
As Sam drops off Mikaela at her house
Over the closing montage, as Optimus Prime narrates.
2. "My Beloved Monster" - Eels
Heard twice:

As Mikaela drives the tow truck toward Devastator, with Bumblebee hitched to the back.
Over the closing credits
3. "Spongebob and Patrick Confront the Phsycic Wall of Energy" - The Flaming Lips
Also heard twice:

Heard through Bumblebee's radio when he snuck into Bobby Bolivia's dealership.
Over the credits.
4. "Kung Fu Fighting" - Ceelo Green & Jack Black
Heard as Bumblebee transforms back to car mode after defeating Barricade. "Don't you want to say you had the guts to get in the car?"
5. "Rock N Roll Rules" - HAIM & Tom Rothrock
Heard as Barricade pursues Bumblebee and the two humans.
Briefly played by Bumblebee as Optimus introduces him to Sam and Mikaela.
Not used in the film.
Notes
The songs used by Bumblebee in the film, but not included on the score, are:
Community content is available under
CC-BY-SA
unless otherwise noted.