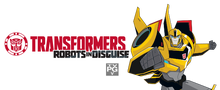 Transformers: Robots in Disguise, not to be confused with the English language dub of Car Robots, is a 2015-2016 animated television series. It is part of the Transformers Prime franchise. It was originally planned to premiere on Hub Network, but within less than a week before the channel's rebrand as Discovery Family, it was announced that the series would move to Cartoon Network since Transformers: Animated.[1] According to Hasbro Studio's official site it will have 78 episodes and be in production until 2016.
Years after the events of Predacons Rising, Bumblebee is summoned back to Earth to battle a new generation of Decepticons and assembles a rogue team of young Autobots that includes a rebel "Bad Boy Bot," an Elite Guard cadet, a bombastic Dinobot, and a hyperactive Mini-Con. Bumblebee will be experiencing visions of Optimus Prime.
Characters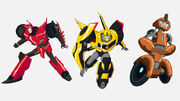 (Numbers indicate order of appearance.)
Notes
Referances
Community content is available under
CC-BY-SA
unless otherwise noted.