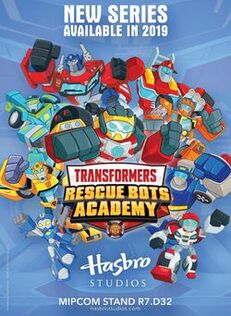 Transformers: Rescue Bots Academy is an animated cartoon series developed by Boulder Media Studio as a sequel to Transformers: Rescue Bots with Ben Ward as the lead writer. The series had a special advance premiere on December 8, 2018, while the remaining episodes began airing on January 5, 2019 on Discovery Family in the US and Pop TV in the UK. In Canada the show broadcasts Sunday afternoons on Treehouse.
Two 52-episode seasons are currently planned and each episode will run for 11 minutes. The voice cast of Rescue Bots did not reprise their roles.
Intended for more of a preschool audience than its predecessor, the show will follow the first class of the Rescue Bot Training Academy, learning things such as how to respond to emergency situations and become heroes from the more experienced Rescue Bots team.
All 52 episodes of season 1 debuted in 2019, and so far the first half (26) of the 52 scheduled for season 2 have debuted in 2020, so the count is expected to be 104, at which point it would tie the original Rescue Bots cartoon's episode count. However since these episodes are half the length of the predecessor, it's more like just reaching the 50% mark.
Instead of 26/24/28/26 this seems to be going for a more consistent 52 (equal to 26 half-hour episodes in length) and episodes will often debut in pairs in a single half-hour slot, though there is a separate opening and closing credits.
"Earth needed help and they answered the call,
No rescue too big, no hero too small. Recruits come to learn from the best of the best, They'll be Rescue Bots too, if they pass the test!"

―Theme Song
Cast
Trainees
Rescue Bots
Dinobots
Others
Others
Episodes
Season 1
"Plan Bee"
"Glitch"
"Dig Fest"
"Tune Out"
Season 2
Media
Community content is available under
CC-BY-SA
unless otherwise noted.