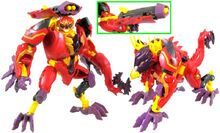 Wielded by the treacherous Lazerback, the Toxic Strike Blaster fires blasts of acid that can disintegrate most armor, and release fumes that cause unprotected circuits to short out. The blasts come two at a time, increasing the potency so much that the most massive of targets dissolve in just a few seconds.
Toys
Beast Hunters
Lazerback (Deluxe, 2013)

Series/number: 2/003
Accessories: Toxic Strike Blaster, missile, tail/whip
Part of the first wave of Prime: Beast Hunters Deluxe Class toys, Lazerback wields the "Toxic Strike Blaster", which transforms from his back into a spring-loaded missile launcher which fires a single, double-pronged missile. (His packaging call-outs erroneously mention that he has two missiles.) The Toxic Strike Blaster can be attached to a hinged 5mm peg-hole as a back-mounted launcher, or placed in Lazerback's hand.
The Toxic Strike Blaster was also redecoed into Vertebreak's Hyena Cannon, and Go! Gaidora's blaster.
Notes
At New York Comic Con 2012, a packaging comparison image in the slideshow identified "Laserback" as coming with the "Acid Strike Blaster", though the actual slide for Lazerback featured both the final character and weapon name.
Community content is available under
CC-BY-SA
unless otherwise noted.