"The Tomb of the Primes is a place located on the Earth.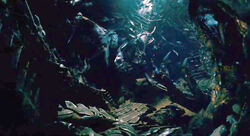 The Tomb of the Primes is was a secret hiding place of the Matrix of Leadership created by the bodies of the remaining Seven Primes, located somewhere on Earth. In essence, six of the original Prime's gave their lives to protect the Matrix from The Fallen.
Fiction
Revenge of the Fallen film
Sam, Mikaela, Simmons, Leo, Bumblebee and the twins find the Tomb of the Primes in the ruins of Petra, in Jordan. Jetfire told them that the symbols in Sam's head would lead them to the tomb, that "As dawn alights the Dagger's Tip, the Three Kings will reveal the doorway" and these Three Kings were pointing to east, exactly to Jordan and to the mountain the ruins were built. Transformers: Revenge of the Fallen
Notes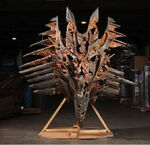 The music clip of "New Divide", made by Linkin Park, is filmed on the set with the decoration of the Tomb of the Primes, scenes from the movie and phrases about it.
A Prime's head can be seen in both the tomb and in the "New Divide" music clip. It looks like the Fallen's head and was a little destroyed or rotten. This item, specially, was auctioned for $1,200, along with other items from the movie.
You left a piece out!
---
This article is a stub and is missing information. You can help Teletraan I: The Transformers Wiki by expanding it.
Community content is available under
CC-BY-SA
unless otherwise noted.