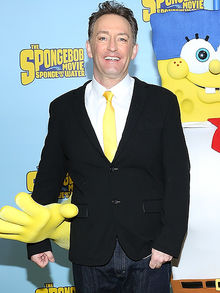 Thomas James Kenny (born July 13, 1962) is an American voice actor, actor and stand-up comedian. From the stand-up side, he is known for his Comedy Central special as well as his prominent role on Mr. Show.
On the voice-acting side, he gets a lot of work. Some of Kenny's better known roles include the eponymous character from Spongebob Squarepants, Dog from CatDog (opposite Jim Cummings), The Penguin from The Batman and subsequent DC projects, The Amazing Mumbo from Teen Titans, Heifer Wolfe from Rocko's Modern Life, The Anti-Monitor from Green Lantern: The Animated Series, the mayor and narrator from both the original and reboot versions of The Powerpuff Girls, Yancy Fry Jr. from Futurama, the Ice King from Adventure Time, Plastic Man from Batman: The Brave and the Bold, Iron Man & Captain America from Marvel Super Hero Squad, Rabbit from Winnie the Pooh (replacing Ken Sansom), Scaramouche from Samurai Jack and... jeez, just about everything that's been on Cartoon Network and Nick in the past 20 years.
On-camera, Kenny has played Patchy The Pirate on segments of Spongebob Squarepants, and very early on in his career, he played the villainous Binky The Clown (not to be confused with the Garfield character of the same name) in Bobcat Goldthwait's cult comedy Shakes The Clown. You may also remember him and his wife, Jill Talley, as the protagonists of The Smashing Pumpkins' Tonight, Tonight music video.
Voice roles
Community content is available under
CC-BY-SA
unless otherwise noted.