Mustache Man is a Decepticon holographic avatar in the Movie continuity family.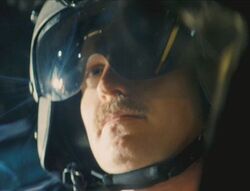 The Mustache Man is the means by which the Decepticon forces can operate within the military branches and law enforcement agencies of the United States without gaining the attention that an otherwise driver-less vehicle would obviously attract. While the Mustache Man can appear in different uniforms appropriate for the vehicle disguise his owner has assumed, the hologram appears to have only one face. With a fake mustache.
Mustache Man has a piercing, icy stare and the tendency to flicker before his owner carries out an operation.
Fiction
Prime Directives prequel comic
Barricade and Blackout are the first the scan and destroy Earth vehicles for disguises when arriving on-planet. It can be assumed that the original Mustache Man was the operator of one of these two vehicles, mimiced to complete the disguise.
Transformers (2007) movie
Actor: Brian Reece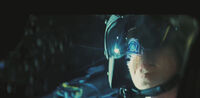 Blackout projects the Mustache Man as his 'human' pilot when he arrives at SOCCENT Forward Operations Base in Qatar, successfully fooling the human soldiers. Base commander Colonel Sharp orders Mustache Man to power down Blackout and disembark his crew or risk being killed. Mustache Man flickers before Blackout transforms to lay waste to SOCCENT.
Later, after Air Force One is forced to make an emergency landing, Barricade drives up to the plane with the Mustache Man activated, earning not a second glance from the many police officers and secret service agents protecting the aircraft. He reacts to Frenzy's report of his failure to successfully access the information they were after with an icy stare.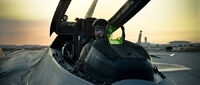 Tracking down ladiesman217, Barricade's Mustache Man tricks the human adolescent into believing he is a real police officer. The human recounts his escape from his car that was following him and demands the Mustache Man exit the vehicle. Needless to say, he doesn't, but instead apes Barricade's movements as he bashes Sam with his car door.
After Frenzy reports the location of the AllSpark, Starscream's Mustache Man flickers and sits in his owner's cockpit impassively as the Decepticon second-in-command orders the other Decepticons to move out. It is unknown if the Mustache Man is being projected during the battle over Mission City.
Trivia
The Decepticon holographic avatar is referred to as "Mustache Man" in the script.
In the February 28, 2006 revision of the script, Bumblebee has the same holographic driver as the Decepticons! Although presumably removed from later drafts because it makes no sense, Bumblebee's Mustache Man shows up in Transformers: The Movie Storybook, and is mentioned by Barricade in the Transformers Decepticons DS game.