Synopsis
Ratchet is (at least trying to) working on the Autobot's spacebridge.Fanzone comes up the elevator and is trying to get a hold of Isaac Sumdac because of the security bots going haywire. When Ratchet finally gets the spacebridge to work, Fanzone is sucked into it. Ratchet follows him in so he can see if the actually found Omega Supreme. It turns out they didn't make it to Omega, but to Cybertron!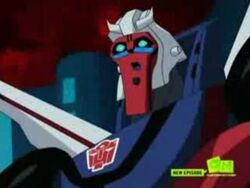 All of the Autobots there are disgusted when they see Fanzone. One of them actually tries to squish him, but fails. Ratchet picks up Fanzone and drives off. When Ratchet stops at an oil bar, he finds out that it has been closed due to all of the Decepticon "activity" in the area. Then they see an animated billboard of Sentinel talking about this "activity" and what you should do if you see anything suspicious. Sentinel then confronts the two and tells them that it's against the law to bring an organic to Cybertron. It's also against the law to be using transwarp machines. Ratchet then explains that there is no transwarper here, and that the thunderstorm combined with Omega's presence somewhere over Cybertron must have created a transwarp field. Then, out of the blue, Omega shows up in the sky with Megatron, Starscream, and Lugnut inside.
They make their way back to the Union (Sentinel Prime, Jazz, Jetfire, Jetstorm, Ratchet, and Fanzone) to discuss what to do about Omega's presence. Sentinel suggests that they open fire on Omega, when the Union says they should fall back. Ratchet says they should not open fire, and Sentinel call him a traitor. Jetfire and Jetstorm attempt to stasis cuff him, but Fanzone sneezes on them. After Ratchet and Fanzone make their getaway, Ratchet decides to go to the underground tunnels to escape from Sentinel. On the way, Ratchet says that no bot has been down there since the Great Wars. It turns out that a bot has been down here recently and probably is still down here. They are confronted by Shockwave with Magnus' hammer in his servo...
Shockwave explains that he needs the access codes for Omega Supreme. Of course, Ratchet refuses. After a brief fight, Shockwave sends Ratchet off the side of the railing and says that he still will get the information. Ratchet gets back on the deck and says that they need to go to the Elite Guard Infirmary. On the way, an Autobot gives Ratchet a card for the infirmary after Fanzone threatens to blow snot at him. When they get to the infirmary, they find out that not only was the card bogus, but Jazz was following them since they left the Union building. He gives Ratchet his card for the infirmary and tells him that he's gotta do what he's gotta do. Or at least something to the gist of that. When they finally get in, they find Arcee on an operating gurney, and Ratchet puts Fanzone on the gurney and starts to push away when Shockwave shows up again.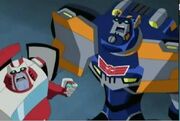 He hits Ratchet with Magnus' hammer and sends him flying down the hall. After another brief fight, Ratchet gets Fanzone and Magnus' hammer. Sadly, Shockwave flies off with Arcee back to Omega Supreme. The Union gives the two a "job well done" although they did lose Arcee. As Perceptor adds," The damage done to her processor was irreversible". Ratchet and Fanzone leave WITH the hammer back to earth. Sentinel gets p r e t t y mad when the Union tells him that his move with Fortress Maximus was foolish and that he never should have opened fire. When Ratchet and Fanzone return to Earth, they find Jazz has followed them. Having had enough of Sentinel, Jazz chooses to join the Autobots on Earth.
In the end, we see Shockwave back on Omega Supreme. Megatron says "Well done my most faithful and loyal servant". Shockwave says "Now I can serve you in my true colors" and turns purple. Lugnut gets so mad that he starts to shake in rage. In the end, Arcee is lying on a bench of sorts on Omega. She looks out at earth and says "Ratchet" hinting that maybe her memory isn't so fragged after all...
Featured characters
(Numbers indicate order of appearance.)
Quotes
Other Notes
Animation and/or technical glitches
Ratchet's few-seconds long flashback to his battle with Lockdown during the war is noticably not clouded as flashbacks usually are. AND they don't make him stare into oblivion anymore.
Continuity errors
Transformer references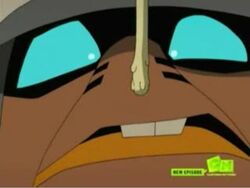 Sentinel refers the Metroplex around Fortress Maximus (as the general area around said fortress, which otherwise strongly resembles the Transformer in his city mode).
Shockwave dons his "true colors", which is the color scheme of his G1 namesake and his Target-exclusive redeco toy. This is awesome.
Real-world references
The billboard showcasing what to do if suspicious activity is seen is similar to both war propaganda and the novel "1984" by George Orwell.
We now know who Trillian is.
Megatron's ploy to transwarp Omega Supreme above a heavily populated city and ensuing shell game with the Council and Elite Guard appear to be a nod to "The Super Dimension Fortress Macross" episodes "Space Fold" and "Burst Point".
Miscellaneous trivia
Sentinel and Jazz are seen with in their earth alt-mode forms, which could make sense for Jazz, but seeing as Sentinel hates earth...
It seems Arcee's memory has been repairing itself over the last few million stellar-cycles.

Arcee also seems to have aged quite well over the last few million stellar-cycles, unlike some other bots.
Lugnut is visibly irked by Megatron referring to Shockwave as his most loyal servant. And Starscream's obviously loving it!
For his ad, Sentinel shows a picture of their half-dead former leader as an example of what could happen if they trusted a Decepticon. Ouch.

Not only that, but the ad somehow has pictures of Megatron, Starscream, Lugnut and Shockwave. How the slag did he manage to get those?
Jazz joins Optimus's crew, we all knew it was a matter of time.
This is the only episode where Optimus Prime does not make an appearance in this series whereas before he was the only character to appear in every episode by far.
Sentinel is still the biggest slagging jerk in all the history of Cybertron.

It seems to be getting worse, too.
Community content is available under
CC-BY-SA
unless otherwise noted.