The name or term Ark refers to more than one character or idea. For a list of other meanings, see Ark (disambiguation).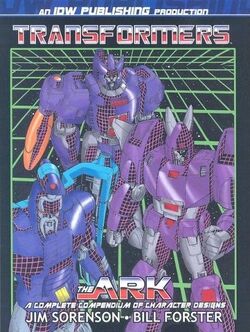 Transformers: The Ark - A Complete Compendium of Character Designs is possibly the most geek-tastic Transformers book ever, collecting 500+ animation character models from the 4 G1 American seasons. Authors Jim Sorenson and Bill Forster acquired many of the pieces of art through Bob Budiansky; some had degraded over time and had to be manually and digitally restored. Don Figueroa penciled and inked the cover, which Bill Forster colored.
It is put out by IDW Publishing. Despite its ultra-narrow audience, it broke #30,000 on Amazon.com's sales rankings.
A follow up volume, called The Ark II was released on July 10, 2008, featuring Japanese character models.
Notes
The cover image does not actually use the character models contained within the book. Wow.
Early promotional art for this book had the alternate subtitle A Complete Compendium of Transformers Animation Models, and as of this writing the book is still listed on Amazon.com using that subtitle.(Feb-27-08)
Community content is available under
CC-BY-SA
unless otherwise noted.