Split page?
So... time to split off Meggy's toy section as we did Optimus? --M Sipher 09:05, 14 May 2007 (UTC)
Wikipedia Argh
So, uh, how much of this article is copied from Wikipedia? I am going to cry. --ItsWalky 06:45, 11 December 2006 (UTC)
On the changes - Iacon wasn't levelled in There Shall Come A Leader. It was destroyed by Trannis in The Middle Years. Megatron's intent to turn Cybertron into a warworld is referenced on page three of the first issue. And... where do we get that the war only lasted a hundred years before the Ark launch? This profile from the '86 annual says a thousand. --Monzo 04:16, 12 December 2006 (UTC)
Masterpiece Megatron
The toy sections shouldn't read like reviews, man. Put that sort of thing on your blog, not on the wiki. --ItsWalky 12:54, 7 April 2007 (UTC)
Alignment
Is alignment in-continuity ENOUGH to merit mention? (The e-hobby Magnus stuff seems to tell 'some version' of alignment's events, I'd consider it AS in-continuity as the Last Days of Optimus Prime, whichw as later mentioned.) -Derik 05:05, 27 March 2006 (UTC)
I would say neither should be in there. Not endorsed by Hasbro and/or Takara? Not canon. - RolonBolon
I think they can be mentioned as long as they are stated as being pseudo-canonical. I certainly think that both of those stories deserve their own articles, for example. "Fanfic" written by Simon Furman is a little different than regular run of the mill fanfic. --Steve-o 20:38, 27 March 2006 (UTC)
Alignment was mentioned in detail in the Ultimate Guide, so one could say it's retroactively canon. Not that I welcome it all that warmly, but... --ItsWalky 20:51, 27 March 2006 (UTC)
Galvatron
In answer to Sipher's question he posed as a comment to his edit, no, I don't think Galvatron should be here. Whether they're the same character or not, Galvatron shows up plenty enough as his own character from the future (and tends to fight/team up/interact with Megatron) to warrant his own entry. Otherwise, a combined Megatron/Galvatron entry is just going to be way too long and confusing as hell. (And, yeah, I am factoring in that Galvatron II will prolly already get his own entry.) --ItsWalky 01:47, 7 April 2006 (UTC)
Super Megatron
http://www.transformertoys.co.uk/images~~othergallery~~concept~~generation~~manga-supermegatron.jpg.galleryimage254ba6a.php I wish this immage wasn't watermarked. X-BoB58 19:24, 29 April 2006 (UTC)
Category: Convention exclusives?
Was there really a Megatron toy that was a convention exclusive? This isn't mentioned in the sections for any of the toys. --Andrusi 19:04, 5 December 2006 (UTC)
Choro Q G2 Megatron? I dunno. Interrobang 00:32, 6 December 2006 (UTC)
Alternators Megatron
Wasn't there meant to be a Cadillac Alternators Megatron in the pipeline? Well it's almost certainly been cancelled now, but it still warrants a tiny mention on this page. IMO.
Space pic
Couldn't fit this pic in anywhere, and I replaced it with a toy pic anyway. --FFN 04:57, 26 January 2007 (UTC)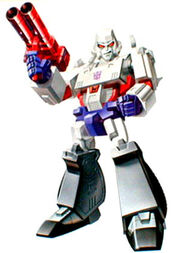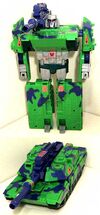 Titanium Megs
>The Titanium Megatron toy was inspired by Dreamwave's first G.I. Joe crossover set in World War II.
When was this established? Absent evidence ot the contrary, I assumed he belonged to Divided Front continuity. -Derik 01:24, 7 May 2007 (UTC)
Megatron: Origin
I'm looking at the issue, and I can't see if it's been confirmed yet that Soundwave's employer is Senator Ratbat. It's likely, but seemingly not confirmed in this issue.--Rosicrucian 21:14, 29 July 2007 (UTC)
Lines
Steve-o removed all the "ugly lines" that were marking off various fictional super-sections for clarity. Sipher, I know you were working on a fix for this, which involved making the differences between the header sizes more obvious. Is this finished? Can we implement it please? --ItsWalky 18:43, 9 August 2007 (UTC)
Megatron/Majin Zarak
Explain to me again why we need to start up a big talkpage debate to overrule the fanboy ramblings of a single user?--RosicrucianTalk 03:06, 4 March 2008 (UTC)
French voice of Megatron in France for G1
The voice of Megatron in france was dubbed by Henry Djanik ( http://www.planete-jeunesse.com/sources/show_pers.php3?cle=137 )
Unused or to be replaced image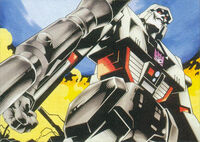 Community content is available under
CC-BY-SA
unless otherwise noted.