Can we have some evidence that there is some information please? Mr. Serious 21:43, 16 May 2009 (UTC)
Grammar Much?
Someone seriously needs to fix the summary (not it). TransRyan 22:11, 23 May 2009 (UTC)
That's it?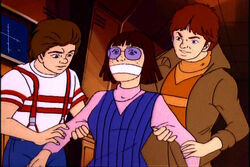 You're Chatting Too Much
---
This wiki is a reference document, not a chatroom. The Talk pages are for discussing how to improve the wiki. The User Talk pages are for requesting and receiving advice (and admonishments) about how to improve the wiki. They're not for random fandom chatting.
If you want to discuss Transformers with like-minded fans, we recommend other sites, such as Seibertron.com, Transformer World 2005, or The Allspark.

2 casualties? And no conclusion to Rodimus, Team Chaar, The Clones, Ultra Magnus, <Insert Loose Ends Here>? Lame.--KaotikusNemesis 12:39, 23 May 2009 (UTC)
Yeah....I hope Adult Swim DOES get its own channel like they've been talking about for years, so I never have to watch Cartoon Network again. But man, at least we can assume that wherever Waspinator is, he's getting blown up. And Hotshot's shoulders probably hurt. And Cyclonus is being a crazy motherf*****. And Blackout is being big. Just like multiple old times.--KaotikusNemesis 14:24, 23 May 2009 (UTC)

I hope I'm not alone in hoping CN's latest gambit fails--miserably--and they bring us a fourth season of TFA.--Kildaver 14:31, 23 May 2009 (UTC)
Word.--KaotikusNemesis 14:39, 23 May 2009 (UTC)

Why'd the chatroom warning poof? Also: Sorry about the aforementioned chatting....--KaotikusNemesis 14:47, 23 May 2009 (UTC)
THAT BETTER NOT BE THE LAST EPISODE OR ELSE LORD MEGATRON WILL COME HUNT OPTIMUS DOWN, TAKE ULTRA MAGNUS OFFLINE, RECRUIT BUBMLEBEE, PROWL, JAZZ, BULKHEAD, AND RATCHET TO BE DECEPTICONS AND CONQUER CYBERTON!!! HUZZAH!!!-- Razorstike, Megatron's Best agent on earth.
Um... --Shredderman38 17:46, 23 May 2009 (UTC)
Sadly, if it is called endgame, it might be the final episode. UNLESS a future series of Transformers Animated is coming just like TF Armada goes to TF Energon or the creators are like him.
Considering Prowl died, it's probably the last episode. Unless Jazz replaces him in the Main Line-up--Shredderman38 17:54, 23 May 2009 (UTC)
I wonder if this will end Animated. If any of you know the recipient's e-mail authors Animated, let me go forward, we're happy to ask the developers Animated, whether they will create the fourth season. I hope that my conceived as "Jetian" and "Windrazor" in the fourth season appear Animated. So if someone knows your e-mail authors Animated? --Jetian 19:52, 23 May 2009 (UTC)
English, please. Mr. Serious 21:42, 23 May 2009 (UTC)
That's.....Slightly more confuzzling.--KaotikusNemesis 07:49, 24 May 2009 (UTC)
What do you think WOULD happen next?
I think Jazz would replace prowl, Sentinel would lead Megatron would break out (and Sentinel being a wuss about it) and Megatron would hunt down Optimus Prime!
Community content is available under
CC-BY-SA
unless otherwise noted.