The name or term Swerve refers to more than one character or idea. For a list of other meanings, see Swerve (disambiguation).
Swerve is an Autobot from the Universe continuity family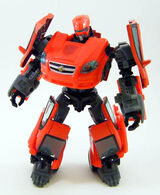 "A mystery wrapped in a riddle inside an enigma, blindfolded" would be a charitable way to describe Swerve. He is the result of the most unusual toy release in the history of the franchise.
Toys
Universe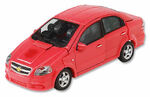 Swerve transforms into a licensed Chevy Aveo. Any relationship he may have to Aveo and Sphinx should be totally coincidental, since Swerve is not part of the live-action movie toyline and doesn't match the design of the Aveo robot from the "Transformers: Rise of the Chevy Autobots" game. He has no gimmicks whatsoever, not even a non-firing weapon.
On March 25th 2008, the Chevrolet online store began to offer Swerve as a "special featured item"... but only from its branches in Switzerland and the United Arab Emirates. Swerve officially sold for €12.80, which, depending on the order location and currency conversion rates, translated into to approximately $20~$30 before shipping. However, orders from customers in the United States were subject to a "processing" fee of over $50 and a "trans-Atlantic shipping fee" of almost $100(!).
Less than two days later, the order page was taken down without explanation. By the end of the month, purchasers reported that their Swerves were indeed arriving.
Whether Swerve will ever be made available again is unknown.
Creation and release
Swerve had an... interesting past. Samples of the toy originally surfaced on Asian websites in August 2007, packaged in polybags that had English text printed on them, and came with standard English-language Hasbro instruction manuals, featuring the logo of the original 2003 Universe line. All "final" samples were the same red color; one specimen appeared to be yellow, but in fact had been hand-painted. The instructions lacked an assortment number, leading to the conclusion that it was an exclusive, though the venue was unknown; for that matter, whether it would even be released at all seemed uncertain for a long time.
When the first samples turned up in China, some of the dealers claimed the toy was supposed to be available as a freebie for buying a real-life Chevy Aveo, which would have made it far and away the single most expensive official Transformers toy. However, contradictory rumors claimed the toy would be available as a freebie for test-driving a Chevy Aveo, or that it was a promotional Chevy exclusive to be only available in China. None of those reports were ever verified, and to this day it is unclear whether the toy was ever officially available in China at all or whether all the samples from Asia were of the usual stolen "leaked" variety. What is certain, though, is that the toy was never officially made available in the Americas in any capacity whatsoever. The only confirmed official release was through the Chevy online store in March of 2008, as stated above.
Early reports throughout the fandom, tepidly verified by Hasbro sources, suggested that the mold's creation had been commissioned by Chevrolet for that company's exclusive use; neither Hasbro or TakaraTomy can use it in their own lines. This amounts to the first time that a "mainstream" Transformer mold was created to be an exclusive (as opposed to things like Happy Meal toys, which are obviously distinct from standard product and cost far less to design and produce).
Those rumors were confirmed at BotCon 2008. Hasbro revealed that it had produced the toy at cost for Chevy as thanks for their successful partnership. It was designed for a promotional campaign in European markets, with the toys given away to people who took a test-drive of a real Chevy Aveo. (It's also still unclear if, when and where this purported promotional campaign actually happened.) The toys were never meant to be sold; a handful were left after the promotion had ended (assuming it actually happened), and so they were shunted onto the website where these last few remainders very quickly sold out (so quickly that some fans who had placed acknowledged orders never got them).
Currently, GM is giving away Swerve as a gift after entering their contest. The stops are June 25-28 at Fairview Mall, July 2-5 at Sherway Gardens, July 9-12 at Bramalea City Centre, July 16-19 at Fairview Mall (again),and July 30-Aug 2 at the Eaton Centre, all in the Greater Toronto Area.
We knew Chevy/General Motors had gotten close with Hasbro, but, damn.
Notes
Oddly, Chevrolet themselves seem to think that the idea of a transforming Aveo isn't exactly the best marketing strategy.[1] (Alternatively, they might just be disappointed that Citroën beat them to the idea by a few years, before Chevy even got involved in the Transformers movie.)
Swerve was available as an optional reward for filling out a short survey held by Chevrolet at Square One Shopping Centre in Mississauga, Ontario, Canada over a four-day period in late June, 2009. Other optional rewards were a slide puzzle or a cloth bag. To quote the Chevy rep, "No one wants the bag."
External links
Community content is available under
CC-BY-SA
unless otherwise noted.