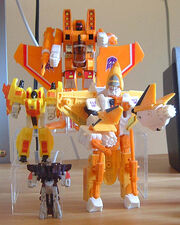 The name Sunstorm has been applied to several Transformers characters.
Sunstorm the Decepticon Cybertronic fighter jet from Cybertron.

Sunstorm should not be confused with:
This is a disambiguation page: a list of articles associated with the same title. If an internal link referred you to this page, you may wish to change the link to point directly to the intended article.