Steeljaw is an Autobot in the Generation 1 continuity family.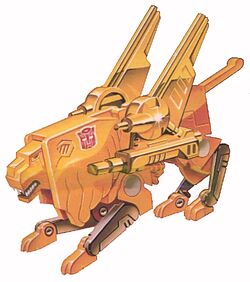 Where the Decepticon cassette with a cat-mode is a master of moving about undetected, it is fitting that his Autobot counterpart is one of the best at tracking down robots who don't want to be found. Steeljaw is a tenacious tracker of unmatched skill. His olfactory sensors can track even the faintest scent for a range of 800 miles. All business when on the job, he can come off as cold, even rude to others, but that's just his professionalism and determination getting the better of him. Steeljaw has a nearly unbreakable bite, from which he takes his name, and is armed with two solar-powered pellet guns. He can electromagnetize himself to stick to surfaces in cassette mode. His only real weakness is a tendency to rust.
"My man Steeljaw can sniff out any trail, if it's hot or if it's not."

―Blaster on Steeljaw
French-Canadian name: Macho
Italian name: Fender
Fiction
Marvel Comics continuity
Generation 1
(Note: Events from UK-only stories are in italics.)
In an alternate timeline in the year 2008, Steeljaw was stationed at Autobot City: Earth when it was sacked by Quintessons. He survived, hidden within Blaster's tape compartment, and was activated by Hot Rod and Arcee to help them fight off the invaders. Space Pirates!
G.I. Joe Starring Snake-Eyes and the Transformers
In the normal timeline (albeit in a G.I. Joe comic), Steeljaw was part of a team sent by Optimus Prime to stop a Cobra-rebuilt Megatron. Steeljaw was killed rather abruptly, being the first victim of Megatron's new "hyper-velocity" rail gun. Final Transformations
Animated continuity
Voice actors: ? (US), Masashi Ebara (Japan)
Scramble City OVA (Japan-only)
Megatron sent Soundwave's cassette forces to find the secret location of Metroplex's construction site. Blaster ejected his own cassette troops, Steeljaw among them, to counter the Decepticon threat. His cassette army failed, allowing Ratbat to slip through and discover the location of Metroplex.
Generation 1 cartoon
In 2005, during Megatron's attack on Autobot City, Soundwave ejected several of his cassette warriors to prevent Blaster from sending a radio transmission to Optimus Prime on Moonbase One. To fend off Soundwave's cassettes, Blaster ejected his own force, with Steeljaw among them. Blaster's cassettes and Soundwave's cassettes appeared to be evenly matched. The Transformers: The Movie
In the year 2006, Steeljaw participated in several missions. In one notable appearance, he was chosen as a "Primitive" by Primacron's Assistant and summoned to face the threat of Tornedron. Call of the Primitives
Headmasters cartoon (Japan-only)
After Blaster was killed in a duel with Soundwave, Steeljaw, his cassette partners, Wheelie and Daniel Witwicky pleaded with Rodimus Prime to rebuild their friend. Rodimus eventually caved and rebuilt Blaster as Twincast.
Teletraan Go! Go! comics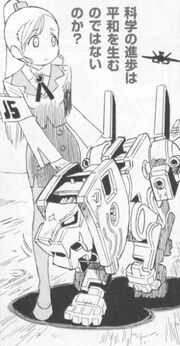 As
Teletraan 15
recovered from her injuries at the hands (and mouth) of
Galvatron
,
Blaster
gave her a cassette tape to cheer her up, saying, "A princess like you deserves happier music." When she listened to it, she discovered that it was in fact entirely full of depressing songs.
It was also apparently Steeljaw, who became her companion in her next adventure, when she visited the Generation 2 timeline and encountered the Jetfire of that era. Steeljaw commented that the Autobot smelled "like a warrior I know" and asked if he was the same person in a new body.
Steeljaw accompanied and protected Teletraan 15 on her journey as she filled his recording space with data on the Transformers whom she had been sent to study. As she returned to the artificial satellite Nana, she was suddenly possessed by the disembodied spirit of Starscream... and Steeljaw was not seen in her company again.
(Note: Steeljaw is described as a "smell fetishist" who obsesses over scents whenever he is not on duty. Teletraan 10 is creeped out that his favorite scent is young women and threatens to reveal his vulnerability to rusting.)
Dreamwave continuity
Toys
Generation 1
Japanese ID number: C-65, C-120, TFC-21
Steeljaw was packaged with Rewind in the US from 1986-87. He was released by himself in Japan at the same time. In 2006, he was reissued with Blaster.
External links

You left a piece out!
---
This article is a stub and is missing information. You can help Teletraan I: The Transformers Wiki by expanding it.