Squawkbox is a Decepticon Mini-Cassette from the Generation One continuity family.
Squawkbox — the combined form of the Decepticons Beastbox and Squawktalk — is a passionate musician. He loves playing with sound, using the combined powers of his components. Listening to, creating, and manipulating sound is his life. The results of his compositions have been called "unnervingly cacophonous", but his Decepticon commanders came up with a way to put them to good use.
Squawkbox has been assigned the function of "Battlefield Dissonance" and set free to distract and disorient the Autobots with his latest works. Squawkbox is thrilled to have both a captive audience and access to all the terrible sounds of a battlefield for future use. Unfortunately for him, his work can prove just as detrimental to his teammates as his opponents if he's not careful, and at that point it's anyone's guess as to which side will be the first to try and shut him up via photon blaster.
Fiction
IDW comics continuity
At the beginning of the Autobot-Decepticon conflict, Squawkbox and a number of Soundwave's other minions watched Starscream massacre the Kaon Council. Megatron Origin, part 4
Much later, and much to Squawkbox's discomfort, Sixshot asked him to locate the missing Terrorcons. Squawkbox fearfully complied and directed Sixshot to the planet Mumu-Obscura to find his comrades. Spotlight: Sixshot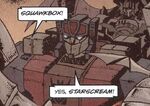 Squawkbox served as Starscream's communications officer while Megatron was in stasis lock. When Starscream learned the Autobots were active, he ordered Squawkbox to alert the other Decepticon forces by telegraph. Squawkbox gets one line in the story: "Yes, Starscream!" (As Hearts of Steel was published before his appearance in the main IDW continuity, this may be his first line of dialogue in canon fiction, ever.) His component parts are not specifically named, but the concept art shows that they turn into a mechanical gorilla and a mechanical eagle. Hearts of Steel issue 3
Note: Squawkbox's appearance on the B cover of this issue, and his appearance inside, are slightly different (color scheme, location of his Decepticon logo), but are within the bounds of normal artistic variation.
Cartoon continuity
Madman Transformers comic
In the year 2001, Squawktalk and Beastbox accompanied Soundwave and several other Decepticon mini-cassettes to spy on the construction site of Autobot City on Earth. The team recorded a secret meeting between Optimus Prime and Ultra Magnus where the two Autobot leaders discussed hiding the Autobot Matrix of Leadership in a bunker on the building site. Once the majority of the Autobots had left for Cybertron, Soundwave deployed Squawktalk, Beastbox, Ratbat, Slugfest and Overkill to begin excavation. Squawktalk combined with Beastbox into Squawkbox and successfully dug up the Matrix, but was then run over by the Autobot Hot Rod. Madman Transformers Comic
Toys
Generation One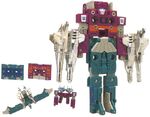 The Decepticon cassettes Squawktalk and Beastbox were packaged together, and combined to form the humanoid robot Squawkbox. Though they had separate bios, the combined form lacked one. They were the last Decepticon cassettes ever released in the United States, years after Soundwave himself stopped being available.
In Japan, Squawkbox was only available as a mail-away exclusive during Masterforce. He cost 980 yen and 2 robot points.
Notes
External links
Community content is available under
CC-BY-SA
unless otherwise noted.