Specifics: fictional appearance
Splashdown is an Autobot Pretender from the Generation 1 continuity family.
The legend of the weathered old mariner lives on in Splashdown. A veritable treasure chest of nautical warfare experience, no seas are too violent for Splashdown. Indeed, for one who has honed his skills in oceans of mercury and liquid lead, taming the H20 of Earth is like paddling in a pond to him.
French-Canadian name: Aquachef
Fiction
Marvel Comics continuity
Note:
Events from the UK-only comic stories are in italics.
A member of Fortress Maximus's crew aboard the Steelhaven, Splashdown volunteered for the synthoplasmic conversion process Optimus Prime had stolen from Scorponok, transforming him into an Autobot Pretender. With Optimus Prime coordinating the Pretenders' first battle with the Decepticons, Splashdown and his teammates easily overwhelmed the opposing force. Pretender to the Throne!
As a naval command officer, Splashdown accompanied Landmine and Cloudburst in trailing the Decepticon Pretenders to an off-shore oil rig. With Landmine and Cloudburst concentrating on their own dance partners, Splashdown presumably disabled Iguanus behind the scenes. The three Decepticons were disarmed, and the Autobots planned to take them back to Cybertron to stand trial for their crimes. Chain Gang!
Toys
Generation 1
Splashdown (Pretender, 1988)

Accessories: Helmet, belt, "Electron-Sword", "Harpoon Gun", blaster, shield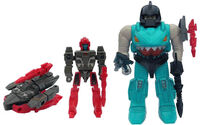 Splashdown transforms into an extraordinarily vague-looking Cybertronic hovercraft. In this mode, his small blaster pegs on the top of his shield, which completes the vehicle mode. His robot form fits inside his Pretender shell, which can also mount the shield on its left arm. Similarly to Sky High and Groundbreaker, the shell's chest plate features an animal-inspired design, in Splashdown's case, a shark's head.
External links