The name or term Sparkplug refers to more than one character or idea. For a list of other meanings, see Sparkplug (disambiguation).
Sparkplug is an automaton from the Transformers Animated franchise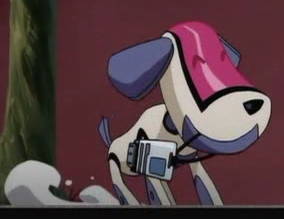 Sparkplug
, also known as Sparky, is
Sari's
robotic pet dog. He likes to chew on Sari's key. According to Prof. Sumdac, he built Sparkplug as a gift for Sari on her birthday.
He hasn't been seen much since Sari took an interest in much cooler robots. Luckily for him, Isaac still loves him.