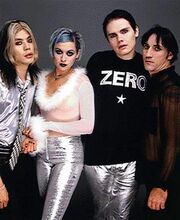 The Smashing Pumpkins are an American alternative rock band (formed in Chicago, Illinois in 1988) that contributed the song "Doomsday Clock" from their 2007 album Zeitgeist to the Transformers soundtrack.
The multi-Grammy award-winning band came to fame in 1993, during the grunge era of the early '90s, with their album Siamese Dream. The band then continued on to release more best-selling albums, including the 1995 double-album Mellon Collie and the Infinite Sadness and the 1998 album Adore.
The band's original line-up consisted of Billy Corgan (vocals/guitar), James Iha (guitar/vocals), D'arcy Wretzky (bass guitar/vocals), and Jimmy Chamberlin (drums/percussion). Currently, the only members left are Corgan and Chamberlin. Iha has moved on to participate in many different projects, and apparently hasn't spoken to Corgan in years. D'arcy, on the other hand, was caught possessing drugs in 2000, and has since then moved out of the public eye. She owns three antique shops, a horse farm, and as of 2006 lives in Austin Texas.
Albums
External links
Community content is available under
CC-BY-SA
unless otherwise noted.