m

m

 

(One intermediate revision by one other user not shown)
Line 1:
Line 1:
−

{{disambig2|the exclusive Dinobots-series Autobot|the Generation 1 Dinobot|Sludge (G1)}}

+

{{disambig2|the exclusive Dinobots-series Autobot|the Generation Dinobot|Sludge (G1)}}

 
 
 

:''Sludge is an [[Autobot]] from an unidentified continuity.''

 

:''Sludge is an [[Autobot]] from an unidentified continuity.''

Line 18:
Line 18:
 
 
 
 
−

[[Category: Autobots]]

+

[[Category:Autobots]]

−

[[Category: Dinobots]]

+

[[Category:Dinobots]]
---
Latest revision as of 12:07, 21 September 2009
This article is about the exclusive Dinobots-series Autobot. For the Generation One Dinobot, see Sludge (G1).
Sludge is an Autobot from an unidentified continuity.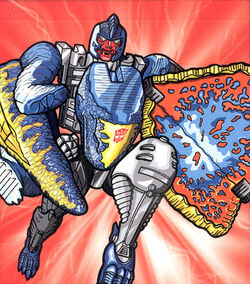 Sludge is a member of the Dinobots. Isn't that nice?
Toys
Dinobots
Snarl & Sludge (Deluxe 2-pack, 2003)
External links
Community content is available under
CC-BY-SA
unless otherwise noted.