This article is about Slog from live-action movie continuity. For the G1 Decepticon, see Slog (G1).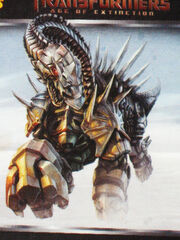 Slog is the largest of the Dinobots. He transforms into an Apatosaurus. His size — which dwarfs even Grimlock, helps him win the majority of his battles. Slog, along with Slash and Snarl, do not directly appear in Transformers: Age of Extinction film. However, Grimlock, Scorn, Slug, and Strafe did appear, so it is presumed that Slog and the other two were created and then collected by the creators in the opening scene of the film like Grimlock, Scorn, Slug and Strafe were. It is likely that Slog was one of the Sauropods seen trying to evade the blast, but was nonetheless struck by the exploding "seed" which transforms all biological life into Transformium. Transformium — the material Transformers are made of, only needs a spark of life (Matrix of Leadership, The Cube, a shard of the cube, Energon supplies as seen with the hatchlings in Revenge of the Fallen, or even human technology-such as that used by KSI) to bring its shell (Transformer body) to life. Seeing that all of these are ever present in the movie continuity, it is more likely than not, that Slog was created along with the other 6.
Games
Transformers Earth Wars Slog - Warrior. Despite his plodding, lumbering gait and bulldozer-like approach to anything in his way, Slog is a gentle and even shy 'bot at heart. But conscious of his bellicose fellow Dinobots, and wary of their scorn, he keeps his sensitive side hidden. Slog's seismic footfalls have been known to cause inadvertent landslides, which sometimes bury Slog and anyone nearby, making others dismiss him as clumsy and accident prone.
Slog/Straxus will have the Seismic Charge ability - Target an enemy wall with a resonating seismic charge. The explosion deals [StatValue] damage for each wall within the radius, quadruple damage to walls.
Trading Cards
Toys
Transformers: Age of Extinction Generation Voyager Class Slog