Slipstream is a female Decepticon Seeker from War for Cybertron.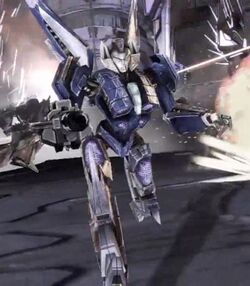 Slipstream is one of the flyers of the Decepticons. She has the unique ability to disguise herself with Autobot colors and appear as an ally to the Autobots.
Note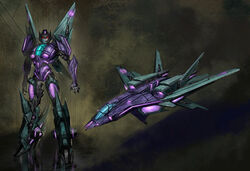 She is unlocked by completing the Decepticon campaign.
She has two abilities, cloaking, and shockwave.
Her ability to disguise is only available with Slipstream, but it becomes unlocked with other abilities for scientist chassis in multiplayer. Slipstream is unlocked when Decepticon campaign is completed.
Slipstream is a playable character in Escalation mode on Decepticon maps.
Rather than being classified as an "Energon Seeker" in the game, Slipstream gets her own chassis and a different vehicle mode. Called the "Stalker" chassis for scientists, which is slightly larger and appears to have four wings rather than two, resembling the F-22 Raptor.

I cannot remain in this unacceptable operational status!
---
This character article is a stub and is missing information. You can help Teletraan I: The Transformers Wiki by expanding it.