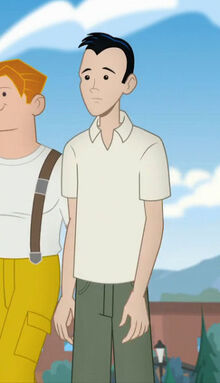 Skip Scobble is both agent and stunt double for Murray Dorfhauser AKA Maven Danger. Apparently this does not pay enough for Mr. Scobble, so he also has a sideline in stealing rare books.
History
Skip used to live in Griffin Rock and attended school with Dani Burns. Years later while working as Maven Danger's agent, he learned of a rare copy of Pilgrim's Progress in the Griffin Rock library. He organized a visit to the island under the pretext that Maven needed to stay at the fire house and take part in rescues as research for his next role. While that was going on, Skip broke into the library, only to find the rare book had been withdrawn by Frankie Greene. He broke into the laboratory, and was unable to find the book, but discovered the girl was friends with Cody Burns, a member of the rescue team. Skip was able to keep the Burns family occupied by having them film a scene with Maven, however he didn't count on the Rescue Bots being Autobots, or the Burns family working out what he was up to. Skip was promptly arrested.
Community content is available under
CC-BY-SA
unless otherwise noted.