Line 21:
Line 21:
 
 
 

==Toys==

 

==Toys==

−

[[Image:rotf-skids-toy.jpg|thumb|Someone got hit with the ugly stick, ''twice''.]]

+

[[Image:rotf-skids-toy.jpg|thumb| .]]

 

<!--Wow, my face looks creepier than [[Transmutate|her]]!-->

 

<!--Wow, my face looks creepier than [[Transmutate|her]]!-->

 
 
---
Revision as of 17:01, 27 May 2009
The name or term Skids refers to more than one character or idea. For a list of other meanings, see Skids (disambiguation).
Skids is an Autobot from the live-action movie continuity family.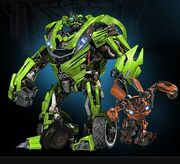 Skids is one of the Twins. Skids claims he's smarter than his brother Mudflap and seems to believe he's more mature, though in claiming so he has a tendency to blabber on and on and on... He has an oversized right arm and a oversized right eye.
"Skids was a better sparring partner than these guys!"

Fiction
IDW Transformers (2007) comics continuity
Skids used to spar with his fellow Autobot Camshaft. He wasn't very good at it, but he was still better than Payload- or Dreadwing-type drones. The Reign of Starscream #3
Transformers: Revenge of the Fallen
Voice Actor: Tom Kenny

Transformers: Revenge of the Fallen
Toys
This article is about a toyline which is scheduled for release, but which has not yet reached its street date. Additions and edits to this article should be sourced whenever possible. Leaked or unofficial information is unacceptable for inclusion.
Discussion as to the status of this toyline should be addressed on its talk page.
Autobot Skids and Mudflap (Deluxe, 2009)
Skids, along with his twin brother Mudflap, combines into a pink and white ice-cream truck. Technically, they are Scout size, but, forming a Deluxe-sized vehicle, are considered as part of that class
Skids w/ Mikaela (Voyager, 2009)
Trivia
He has a gold tooth. Now he's a gangsta!
He seems to speak with a Southern accent.