This article is about the live-action-movie-series Autobot. For the Energon-series Omnicon, see Signal Flare (Energon).
Signal Flare is an Autobot from the live-action movie continuity family.
Signal Flare has taken a different tactic to protecting Earth from the Decepticons. Eschewing combat, he prefers to hide among the humans and secretly help build their structures to withstand damage from Decepticon weaponry, rather than the mission of fighting that big green, fire-snortin' lizard which might be implied by his alt mode. He also remains vigilant in watching out for any Decepticon activity on Earth, quickly transmitting details to the Autobot high command.
He's found a prime staging ground at the Wash & Roll, an automobile service station and car wash near the Witwickys' home. It's from here that he keeps his fellow Autobots clean and properly maintained.
Fiction
Titan Magazines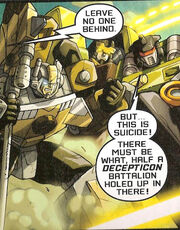 As a recruit, Signal Flare underwent training missions with Ironhide - said training being "attack that heavily armed Decepticon base!". Signal Flare expressed concern that they'd be wiped out by a massive number of Decepticons, and to his annoyance was ordered to do a flanking run to draw fire. Transformers Comic issue 5
IDW Transformers (2007) comics continuity
Signal Flare, along with Grindcore, Warpath, and Elita-One, was captured during a raid and put to work by Stockade to construct Starscream's All Spark replica at Simfur. Signal Flare managed to sneak away, but was soon recaptured by Dreadwing and strapped to the All Spark, with the intention of draining his life-force to power the cube. The Reign of Starscream #4
Signal Flare and the others died when the life-force draining part went off without a hitch. However, the new All Spark didn't work. Bummer. The Reign of Starscream #5
Toys
Transformers (film)
Signal Flare transforms into a Cybertronic half-track MASER tank. Moving the MASER arm causes the dish on the end to spin. The dish can be combined with a pair of shields to form a buzzsaw weapon.
Signal Flare (and the rest of the Scout wave) are exclusive to Target stores, where they are all part of a Robo-Vision promotion. Signal Flare comes with a Robo-Vision Decoder which allows you to see the Robo-Vision Code printed on his cardback. Starting June 2, 2007, Target's website allowed users to input those codes to access exclusive content.
Notes
External links