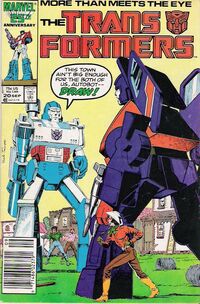 Donny Finkleberg tries to escape from Ravage, and gets some help from Skids and a new friend.
Synopsis
Donny Finkleberg is on the run from the Decepticons, and Ravage is hot on his trail. Stumbling across a temporarily vacant camp site, Donny steals some clothes and buries his old costume. Realizing that he needs to find the Autobots, Donny unwittingly passes the injured Skids by. Not far behind him, Ravage destroys the campsite, momentarily fooled by the abandoned Robot Master uniform.
Elsewhere, in a small town several miles away, register girl Charlene is given a lift by her co-worker Wendell, as her car has recently broken down. On the drive she discusses with him how she wants some adventure in her life, and persuades him to pull over so they can explore an old trail. There, they find Skids with his radio playing, and arrange to have him taken to Bob's Service. Bob gets the van up and running, and Charlene drives off, leaving Wendell with the bill.
As she pulls out, the van catches the eye of Jake Dalrymple, who recognizes it from an earlier encounter and tries to run it off the road. Skids takes over the driving, outmaneuvering Jake and leaving him with a windscreen of green paint. On the outskirts of town, Skids reveals himself as a Transformer, explaining to Charlene that he had been trying to find peace as her car. He goes on to reveal he was a scientist, and had no desire to fight or die, that all he wants to continue his scientific studies with her. Meanwhile, Jake is ranting about the crazy van and its driver, which gives Donny a clue...
The next day, Skids asks Charlene about her old west memorabilia. She tells him of how it was a great time of adventure, and even though she didn't live then, she can still dream of it. Skids laments that all his dreams are memories of war so the pair go out to make him some new ones. The pair grow closer, with Charlene brushing off Wendell's invitation to see a new movie to give Skids a wash (which they both enjoy waaaay too much). Before Charlene can give Skids his wax and buff job they are (thankfully) interrupted by Donny, who had been listening in on her talking to her 'ordinary van'.
Skids' attempt to stay hidden is finally undone by Ravage who pounces at Donny, firing. Charlene and Donny dive into Skids who speeds off at top speed. The two humans argue — Donny patting himself on the back for finding an Autobot, and Charlene pointing out that he only found Skids because Ravage is trying to kill them. Rushing through the town (and past Jake), the trio head to an abandoned mining town to battle their pursuer away from civilization.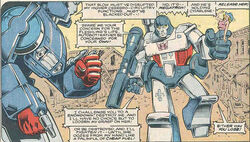 Arriving in the town, the Autobot tells the humans to hide, but just after they leave, Jake arrives and smashes his windscreen with a tire iron. Rendered unconscious, Skids has a dream that he has to face Megatron in a showdown to save Charlene. He realizes even though he doesn't want to fight, he has to protect her... unfortunately, it doesn't go so well for him, but it was only a dream. Back in reality, Charlene and Donny argue with Jake, but a renewed attack by Ravage scatters them. Before Ravage can finish Skids, he is rammed by Jake in his Lamborghini, giving the others enough time to bring the Autobot around. His resolve to fight strengthened by his need to protect Charlene, Skids fights a desperate battle with Ravage, eventually tricking the Decepticon into falling down an abandoned mine shaft.
With Ravage gone, Charlene tries to convince Skids to come back with her but he says he is going with Donny back to the Autobots. He cannot avoid his responsibility, and he would be living in a dream if he stayed, no matter how much he wants to. Charlene tells him she'll miss him, but he did better than the last car she loved — its transmission went and she junked it.
Credits
Script: Bob Budiansky
Pencils: Herb Trimpe
Inks: Ian Akin and Brian Garvey
Colors: Nelson Yomtov
Lettering: Janice Chiang
Editor: Michael Carlin
Originally published: September, 1986
Major characters
(Numbers indicate order of appearance.)
Errors
Although he is depicted as such here, Skids is not a van, but a much smaller Honda City Turbo (a vehicle virtually unknown in the United States).
Skids' torso is colored red on the cover.
On page 17, Charlene's top is colored orange instead of pink.
The damage to Skids' windscreen disappears on page 20 in panels 1 and 4 and again on page 21, panel 5.
His whole windscreen / door back kibble is missing on page 21, panel 6 — though this is likely deliberate to allow the picture to show Ravage pouncing.
In Skids' dream, Megatron says he'll crush Charlene if he wins their duel, but he is quite clearly shown dropping her.
Items of note
Ravage breathes fire now apparently.
On page 11, Wendell is shown watching Charlene around a corner which could be taken that he's got the hots for her and is simply a bit creepy trying to figure out if she's seeing someone else. However he was just inside talking to her — she's even still talking to him as she gets behind the wheel so there's no reason he couldn't follow her out to talk.
A more logical explanation is that Wendell was incorrectly drawn in place of Donny Finkleberg — it would explain how he found Charlene at her home (which was shown to be somewhat isolated earlier) as he could have reasonably spent the day looking for a blue van like the one Jake was talking about in the diner, before following them as they left.
Ravage remained underground until Time Wars (in the UK continuity. His return in America is vague, but his presence in post-Underbase stories implies that he at least stayed out of that battle. His next appearance is as a member of Shockwave's rogue Decepticon group in Eye of the Storm, where Scorponok's Decepticons believe he hasn't been seen since these events).
Covers (3)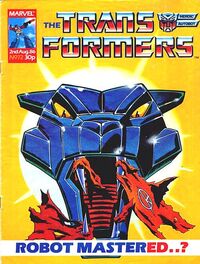 U.S. cover: Megatron and Skids as cowboys by Herb Trimpe
UK issue 72 cover: Ravage with Robot-Master costume in his mouth by Geoff Senior
UK issue 73 cover: reuse of art from U.S. cover
Advertisements