Shepherd is a Mini-Con from the video game version of the Unicron Trilogy.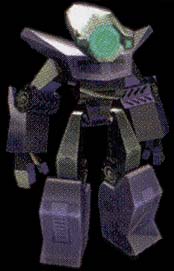 Shepherd is one of many power-enhancing Mini-Cons scattered across Earth. A member of the Purple Mini-Con Team, when Powerlinxed to a larger Transformer, Shepherd activates a Mini-Con detection system which manifests as glowing spheres against a monochrome background. This enables Transformers to locate hidden Mini-Con storage panels through low visibility conditions, even through solid rock or metal.
Fiction
Transformers Playstation 2 Game
Shepherd's storage panel was discovered on a small island off the north coast of Megatron's Pacific island base, near an abadoned human settlement. Following the defeat of Megatron, he and the other Mini-Cons returned to Cybertron and helped form the Matrix Cannon, Nemesis Shield and Vanguard Booster, giving the Autobots the power needed to destroy Unicron.
Notes
External Links
Community content is available under
CC-BY-SA
unless otherwise noted.