The name or term Scrapper refers to more than one character or idea. For a list of other meanings, see Scrapper (disambiguation).
Scrapper is a Decepticon from the live-action film continuity family.

Scrapper is a Decepticon and part of the Constructicons. He transforms into a Front Load Shovel and the right arm of Devastator.
Fiction
Revenge of the Fallen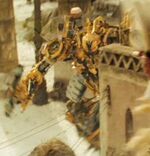 Scrapper pursues Sam Witwicky and Mikaela Banes with other Decepticons. He uses his flail-like club to break the bridge on which Sam and Mikaela were running through. Scrapper was defeated when the fighter jets dropped bombs along with other Decepticons. Transformers: Revenge of the Fallen
Revenge of the Fallen: The Game
A constructicon very much like Scrapper is an enemy in the Autobot campaign, and is one of the toughest drones to defeat.
Toys
Scrapper, now a Legends class figure, transforms into a front loader. He forms one of Devastator's arms. In Japan he is a seperate release from the other Constructicons. In America, he will be packed in a giftset with the others.
External Links
I cannot remain in this unacceptable operational status!
---
This character article is a stub and is missing information. You can help Teletraan I: The Transformers Wiki by expanding it.