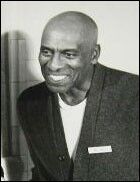 Scatman Crothers (born Benjamin Sherman Crothers, 1910-1986) was an American singer, musician, voice actor and number one super guy. He is often recognized for his roles in films such as The Shining, The Twilight Zone: the Movie, One Flew over the Cuckoo's Nest and for his voiceover performances such as Scat Cat in Disney's The Aristocats and the similarly named character in Hanna-Barbera's The Skatebirds, his guest star appearance on Sanford & Son as Fred Sanford's friend "Crazy Legs" (he walked bow-legged), and as the title character and singer of the theme song in Hong Kong Phooey. He also performs voice-overs for a variety of supporting characters in Ralph Bakshi's Coonskin. Also, he played Meadowlark Lemon in Hanna-Barbera's Harlem Globetrotters and Nate Branch in the spinoff The Super Globetrotters.
Generation One
External Links
Community content is available under
CC-BY-SA
unless otherwise noted.