Scalpel is a Decepticon from the live-action movie continuity family.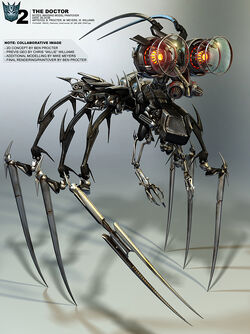 Though Scalpel "The Doctor" looks harmless, he is very evil. He's pretty much the Decepticon version of Perceptor, but more sadistic, cruel, and smaller. He tortures people so much they die, then brings them back to life so he can do it again.
Fiction
Revenge of the Fallen film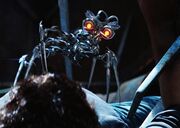 The Doctor went to the the bottom of the Laurentian Abyss along with Long Haul, Rampage, Ravage, Mixmaster and the little one. Using the All Spark fragment stolen by Ravage, the Doctor orders the Decepticons to kill the little one to obtain the parts to repair Megatron's body.
He later waits in the warehouse where Grindor captured and took Sam, Mikaela and Leo. Megatron orders him to extract the knowledge of the Cybertonian language Sam had been seeing. He was able to probe into his nose and brain, but demanded to take out the brain for a full scan. However, he was interrupted in his preparation to drill into Sam's brain when Bumblebee and Optimus came to the rescue and had a brief battle. Transformers: Revenge of the Fallen
Toys
Scalpel (Scout, 2009)
Scalpel transforms into a microscope. In microscope mode, he isn't life sized, since he is very tiny for a microscope. However, his humanoid form is almost a perfect life-sized version of the one in the Revenge of the Fallen film.
Trivia
His fate isn't shown in the film, but the novelization and comic depict him being destroyed by Optimus Prime upon arrival.
When Scalpel ordered the others to kill "zeh little one", he was the smallest Transformer in the area... perhaps he has issues. Scale issues.
:
Someone drew scalpel in animated style.
External links
I cannot remain in this unacceptable operational status!
---
This character article is a stub and is missing information. You can help Teletraan I: The Transformers Wiki by expanding it.