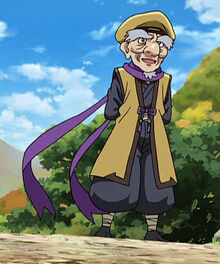 Sasuke Sarutobi (猿飛 佐助 Sarutobi Sasuke) is a famous ninja from the Sengoku period of Japan.
He's a much better ninja than some we could mention.
History
Tobio Fūma and the Swordbot Shinobi Team discovered Sasuke Sarutobi being attacked by thieves while searching for a legendisc in the past. After Tobio and the Shinobi Team chased off the thieves, Sasuke gave Tobio the orange legendisc and revealed his identity before vanishing ninja-style.
Notes
Sasuke Sarutobi is (probably) a fictional character and a common folk hero in Japan. Some argue that he may have been based on a real person.
The Transformers: Go! depiction of him is somewhat at odds with his usual description. In most Japanese folk tales, he's a young boy or at least a young-looking adult. It's unclear why TakaraTomy decided to portray him as an old man...
"Sarutobi" is at least as much a title as a last name. It refers to his ability to leap through the trees like a monkey ("saru" meaning "monkey" and "tobi" meaning "leaping").
Community content is available under
CC-BY-SA
unless otherwise noted.