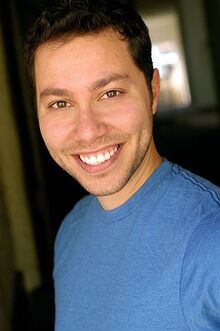 Samuel Brent Oscar Riegel (born October 9, 1976), is an American voice actor and director. His voice credits include Donatello in the 2003 Teenage Mutant Ninja Turtles cartoon, Kudamon in Digimon, Viral in Tengen Toppa Gurren Lagann, Jiro in Blue Dragon, Baki in Naruto, Minoru Shiraishi in Lucky Star, Azel/Devil Hand in God Hand, Phoenix Wright in Ultimate Marvel vs. Capcom 3 and later Ace Attorney titles, Riven in the Nickelodeon version of Winx Club, Teddie in the Persona series and the original voices of Tristan Taylor/Hiroto Honda and Rex Raptor from Yu-Gi-Oh! Duel Monsters. He's also acted as the voice director for series such as Sofia the First, Wander Over Yonder and the 2017 DuckTales series.
Riegel also makes up half of the online comedy duo "Riegel and Blatt", appears as part of the Critical Role role-playing web series, and currently hosts a podcast called "All Work No Play" with fellow voice actor Liam O'Brien. He had also appeared in the documentary 102 Minutes that Changed America, as he was in New York City on September 11, 2001 and caught the attacks on the World Trade Center on film.
Voice Roles
Starscream
Additional voices
Starscream
Autobot Soldier #2
Community content is available under
CC-BY-SA
unless otherwise noted.