This article is about the dog from Armada. For Kicker's little sister from Energon, see Sally Jones.
Sally is a Canine American in the Armada cartoon portion of the Unicron Trilogy continuity family.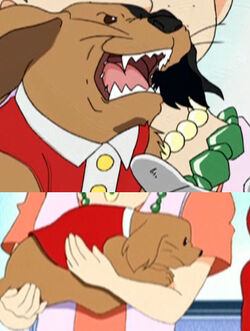 Sally has a very firm sense of her place in the world, and it is not on the ground with her fellows. She will break the glass ceiling keeping canines from existing as equals to humans. Sally will wear clothes, and be carried wherever she goes, and be provided food on demand! Let the world see that she is royalty among them!
Armada cartoonEdit
Sally and her human were in the Lincoln, Nebraska bus terminal, awaiting a connection to an unknown destination when three suspicious characters wearing bulky, unseasonably-hot clothing appeared. Sally attempted to warn her attendant of the obvious danger posed by these persons, but was ignored by her human who began to talk to, then flirt with, then offer snacks to one of them!
As Sally's objections grew louder, the strangers' young friends arrived to whisk them away. The danger averted, (and no thanks to her witless human!) Sally settled down for some well-deserved tummy-rubbing. Runaway
Associated characters
Edit
Human attendant
Edit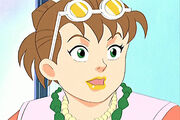 Human attendant isn't the sharpest tool in the shed. Simple tasks like caring for her fussy dog can sometimes overwhelm her, but still she presses on with the plucky can-do attitude of someone who actually can't do, but has the looks to make up for it.
Human attendant is docile and takes well to strangers, often going right up to them with friendly gestures or offering to share her food. She hopes to one day find a higher-paying position that utilizes her dog-pampering skills in a professional capacity.
She appears to be a resident of Lincoln.
She was charmed by Payload's "accent", openly flirted with him and asked if he's from out of town, offered him a cookie, and told him how impressed she was by the size of his hands.
Community content is available under
CC-BY-SA
unless otherwise noted.