The name or term Safeguard refers to more than one character or idea. For a list of other meanings, see Safeguard (disambiguation).
Safeguard is a Mini-Con from the Cybertron portion of the Unicron Trilogy continuity family.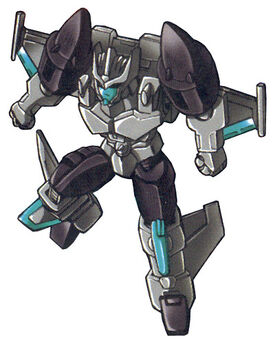 Safeguard is Vector Prime's faithful Mini-Con partner. He travels with him through time and space, and aids him in his multiversal tasks. Not only is he an expert in data-gathering and translation, but he's also an utterly fearless warrior and will face down opponents many times his size without hesitation.
Sometimes, he carries cute, tiny swords.
Japanese name: Roots
Fiction
Animated continuity
Cybertron
Voice actor: SFX
Safeguard was originally from Gigantion, the Giant Planet, but was trapped in a shuttle pod with the Recon Mini-Con Team that blasted off and floated aimlessly through space. The lost Mini-Cons were accidentally discovered by Vector Prime, who took them with him on his travels.
Safeguard was sent to investigate underwater ruins off of an island while the humans played in the surf and Vector Prime sunned himself. They turned out to be just another reproduction, not the actual Omega Lock. Time
When Vector Prime sacrificed himself to turn back time and enable the Autobots to escape Gigantion, Safeguard remained with his fellow Mini-Cons. Following the Autobots' victory, Safeguard wistfully looked at the launch pad at the Autobot base and imagined he saw Vector Prime taking off. *Sniff.* Beginning
Fan Club Cybertron comic
Toys
Cybertron
Vector Prime w/ Safeguard (Voyager, 2005)
Japanese ID number: GC-03
The pack-in Mini-Con partner to Vector Prime, Safeguard transforms into a Cybertronic (Gigantian?) starfighter with a gunbarrel nosecone.
Roots (Change Micron, 2005)
Change Micron ID number: 4
Part of the only Kabaya "Change Micron" candy toy assortment in Galaxy Force, this version of Safeguard is actually a new sculpt based on the pack-in version. The most notable difference in the Change Micron version is that the nosecone is cast in the same off-white plastic as his body, rather than cast in burgundy/brown (due to being gang-molded with Vector Prime) and painted to match the body as the original versions were.
Starscream vs Vector Prime w/ Safeguard (Multi-pack, 2005)
Safeguard also came in a Toys "R" Us exclusive set along with Vector Prime (duh) and a new-deco version of the Voyager-class Starscream mold. This version of Safeguard (and Vector) is identical to the normal Hasbro release.
Galaxy Force Vector Prime w/ Safeguard (Voyager, 2006)
Just as Vector Prime was redecoed, so too was Safeguard, changing to a predominantly bronze color scheme.
Attacktix
Vector Prime (Booster, 2006)
A rather oddly proportioned version of Safeguard in starfighter mode makes an appearance as the missile launcher on the Vector Prime Attacktix piece.
Universe
Vector Prime w/ Safeguard (Voyager, 2009)
External links
I cannot remain in this unacceptable operational status!
---
This character article is a stub and is missing information. You can help Teletraan I: The Transformers Wiki by expanding it.
Community content is available under
CC-BY-SA
unless otherwise noted.