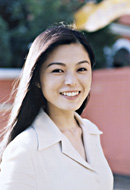 Ryōka Yuzuki (柚木 涼香 Yuzuki Ryōka, born January 10, 1974) is a Japanese voice actress who was born in Anjo, Aichi, Japan. Her younger sister is Sayumi Sakuragi (桜木さゆみ), who makes a living making autobiographical manga about her sexual exploits in which Ryōka sometimes makes uncredited cameo appearances.
She was originally a live-action actress and Beast Wars was one of her first voice gigs.
She did the first season of Beast Wars credited as Ayumi Nagashii (永椎 あゆ美 Nagashii Ayumi). She previously had been a model under the name Kanori Kadomatsu (角松 かのり Kadomatsu Kanori). On November 1, 1998 she changed her name to Ryōka Yuzuki.
Beast Wars
Beast Machines
Transformers Animated
External links
Community content is available under
CC-BY-SA
unless otherwise noted.