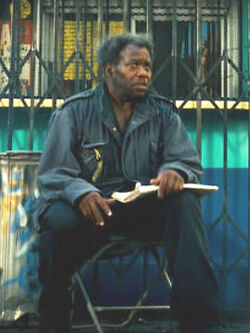 "Ron" (last name unknown) is a homeless person who appeared in Michael Bay's Transformers film. He is a huge movie buff, knowing all about the industry, and even knows a lot of filmmakers. He became the set's "mascot" as they filmed in California. When the crew changed locations to Detroit, Ron somehow made his way there to keep up with the production.
Bay and the crew were so impressed by Ron that they put him in the movie, as a bystander to the carnage in Mission City, sitting next to the machine that would become Dispensor. The company attempted to compensate him, but he refused. Apparently it took some arm-twisting to even get him to accept being put up in a hotel for the night.
Michael Bay has said he's going to put Ron in all his future movies.
Ron is basically awesome.
Transformers (2007)