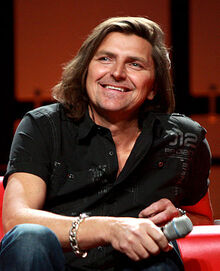 Robin Atkin Downes
 (born September 6, 1976) is a British screen and voice actor. He has provided voices for more video games than you will ever play.
In the video game world, his most famous role is The Medic in Team Fortress 2 as well as Luxord in the Kingdom Hearts series, The Prophet of Regret in the Halo series, Kazuhira Miller in the Metal Gear Solid series, Travis Touchdown in the No More Heroes series, and Captain Romulus Slag in Ratchet and Clank.
In animation, he has done the voices for Baron Zemo and Abomination in The Avengers: Earth's Mightiest Heroes, Gentleman Ghost in Justice League Unlimited, Mumm-Ra in the 2011 Thundercats series and provided the motion capture of Doomsday in Batman v Superman: Dawn of Justice.
He has also guest starred on a number of TV shows, including Babylon 5, Buffy the Vampire Slayer, and CSI: Miami.
Voice roles
Community content is available under
CC-BY-SA
unless otherwise noted.