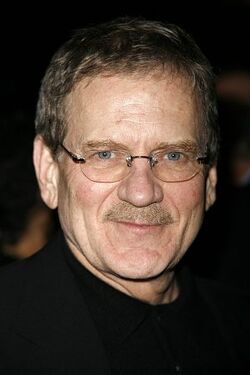 Robert Foxworth (November 1, 1941- ) is an American film, television and stage actor. He has been a frequent television guest star since getting his start on CBS Playhouse in 1969, to the extent that the protagonists of a long-running television series such as Law & Order will occasionally meet him multiple times as completely separate characters. A frequent science fiction guest star, he's popped up on Babylon 5, the Star Trek spinoffs Deep Space Nine and Enterprise, and Stargate SG-1 to play high-ranking officials involved in military coups. However, he is perhaps best known for his role as Chase Gioberti on the television soap opera Falcon Crest.
Foxworth gained his first experience as a voice actor playing Race Bannon on The Real Adventures of Jonny Quest. Viewers may also recognize his voice as supporting character Dr. Emil Hamilton on Justice League Unlimited.
Transformers (2007)
Revenge of the Fallen
Dark of the Moon
Notes
In the Emmy-winning television miniseries Peter and Paul, he played the Apostle Peter... but Scott McNeil has played Jesus.
External links
Community content is available under
CC-BY-SA
unless otherwise noted.