The Roadjammers are human bounty hunters in the Marvel Comics portion of the Generation One continuity family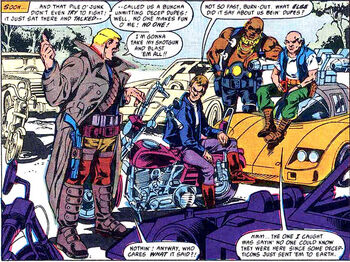 The Roadjammers were a quartet of unsavory bounty hunters employed by the Z Foundation.
The Roadjammers consisted of:
Fiction
Marvel Comics continuity
Each of the Roadjammers were individually approached by the Z Foundation for the purposes of hunting down Autobots and testing on them a new weapon called a jammer. Jammers broadcast a frequency that somehow interfered with a Transformer's ability to transform, crippling it. The Roadjammers eventually discovered that the Z Foundation was a front for the Decepticons, so they struck out on their own and were never heard from again. Ca$h and Car-Nage!
Community content is available under
CC-BY-SA
unless otherwise noted.