This article is about the Decepticon Laser Cycle. For the human Dreadnok, see Road Pig (Dreadnok).
Road Pig is a Decepticon from the Generation 2 portion of the Generation One continuity family.
Have you seen me?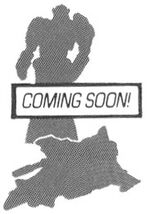 This character needs some sort of visual representation. If you have one, please replace this.
The electricity doesn't quite complete the circuit with this one, if you get the meaning. Road Pig is brutish and moronic -- he wasn't assigned the duty of "Autobot Harassment" because the role needed to be filled, but because it was probably the only function he was capable of completing. This thug is even unpopular among his fellow Decepticons. His fellow soldiers tolerate him because they can count on Road Pig to annoy their enemies in combat, and maybe take some fire instead of them, but they know he's not helping them intentionally: Road Pig just can't stop being a pain-in-the-manifold. With no known friends and a function that just invites the Autobots to shoot at him, it's a wonder he's lasted this long. As Omega Supreme might say, "Processing circuitry: slow; Intelligence: minimal."
French name: Graisseux ("Greasy")
Italian name: Molock
Japanese name: Road Big (ロードビッグ, roo-do-bi-ggu)
Fiction
Japanese G2 minicomics
Road Pig appeared in the battle between the Autobots and Decepticons shortly after the Cyberjets made their debut. His fellow Decepticon, Hooligan, had damaged his wing in combat and was forced to run away from the enemy instead of flying. After sneering at his comrade and laughing at his crippled wing, Road Pig pulled a Junkion and turned into cycle mode, letting Hooligan turn around and ride back straight into his Autobot pursuers. Later, he joined the Laser Rods in hunting down and trapping Road Rocket, another Laser Cycle who had attempted to infiltrate their base. They cornered the Autobot, but were caught off-guard by the arrival of Aero Raid.
Toys
Generation 2
Road Pig (Laser Cycle, 1995)

Japanese ID number: TRF-12
Road Pig transforms into a black Harley-Davidson Electra Glide touring motorcycle. One of the two Laser Cycles released in the tail end of Generation 2, Road Pig has a light up gimmick activated by pressing a button to light an LED, making the clear plastic of his arm-mounted tailpipe-weapon glow red.
This mold was redecoed to make the Robots in Disguise version of Axer, and a redecoed and slightly-retooled version was release as Robot Masters incarnation of Sideways (aka "Doubleface"... yeah, we know, the toy only has one face. Just nod and move on). There were also plans to use it for a Generation 2 Laser Cycle incarnation of Soundwave, but it was never released.
Notes
In 2000, Road Pig and Road Rocket were redecoed and retooled as Japanese Toys "R" Us exclusive items for the then-current incarnation of Microman, "LED Powers". Road Pig became the "Tornado Bison" machine, and came with an exclusive Microman rider figure. Both toys came in a single box, and both had their electronics removed. This release is the source of the retoolings found in the later Robots in Disguise and Robot Masters uses of the mold.
External links
Community content is available under
CC-BY-SA
unless otherwise noted.