Road King is a ground defense and communications soldier armed with a pin-hole rifle. In F-1 mode he can travel at speeds up to Mach 9.5. He is also a first-rate mechanic. He has a "big city" personality, and as such can be very loud. There are times when he argues with Ranger, but they have a generally good relationship, usually ending their arguments with a joke.
Italian Tv dub name: Ghibli
Masterforce cartoonEdit
Voice actor: Kaneto Shiozawa (Japan)
Road King, the "British Wolf," is the reigning champ of the European Rouen Racing Circuit. He comes to the attention of the Autobots when his car repairs itself after a crash. He is given a pair of Master Braces and combines with his car to become the fourth Godmaster. At Full Strength! The Four Godmaster Gunmen
Masterforce mangaEdit
Road King was seen among other high-ranking Autobots (such as Road Caesar, Landcross, Grand Maximus, Lander, and the other Autobot Godmasters) when Dai Atlas is sworn-in by Victory Saber as the new Supreme Commander of the Autobot forces.
Generation One
Edit
Road King (Autobot Godmaster, 1988)

Japanese ID number: C-306
Accessories: Godmaster transtector, "Pin-hole rifle", spoiler, engine block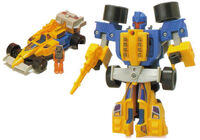 Road King transforms from an armored human into an engine that can plug into any Godmaster/Powermaster toy's engine socket. His larger Transtector transforms into a yellow Formula-1-styled race car with blue highlights. Like all Godmasters, the Transtector is "locked" in its vehicle form until a Godmaster figure is inserted into the engine socket (or until you push down the relevant buttons in said socket), which revealed by removing a large yellow engine block cover on the rear of his car mode.
External links
Edit
Community content is available under
CC-BY-SA
unless otherwise noted.