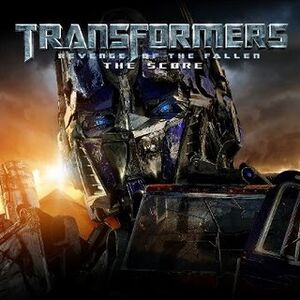 Transformers: Revenge of the Fallen: The Score is the album containing all of the original instrumental music composed by Steve Jablonsky for the second live-action Transformers movie. It was released the twelfth of June 2009, the same month as the film's release.
Tracks
Einstein's Wrong - When Sam has his mental breakdown in class.
NEST (Contains Instrumental Excerpt from "New Divide" by Linkin Park) - Nest Team arrives in Shanghai
The Shard - Sam drops the shard in his house and creates Decepticons, Alice is chasing the humans through the library
The Fallen
Infinite White
Heed Our Warning
The Fallen's Arrival - The Fallen comes to Earth.
Tomb of the Primes - They discover the Tomb of the Primes
Forest Battle - The entire battle scene taking place in the forest between Optimus, Megatron, Starscream and Grindor.
Matrix of Leadership - When Sam dies.
I Claim Your Sun - The Fallen begins to activate The Solar Harvester.
I Rise, You Fall - Optimus defeats The Fallen.
Community content is available under
CC-BY-SA
unless otherwise noted.